1. What are the first things I need to do? After activating the Amazon Dropship plan, the first thing you need to do is follow the four steps mentioned on top of the "Amazon Dropship" page. You won't be able to push any products until you have completed steps one and two. Simply click on the red square next to those two steps to complete the initial steps once the step is complete the square will turn green showing with a check mark which means the step is complete. View picture below


If you wish to sell on Amazon and haven't yet activated your Amazon plan, please go to wholesale2b.com and sign up for a free account. Then from your free account, you can activate the Amazon Dropship Plan to get started.
2.Adding products to your Amazon list: This would be step three in getting your Amazon list ready to be pushed. I recommend that you keep your list OFF until you have completed adding all the products you wish to push to Amazon and setting your price markups. There is no rush in getting items listed on Amazon, and I suggest that you take the time to build your list and set your pricing correctly.
When adding products to your list, you simply need to click on the top menu "Amazon products" and click on the small Amazon icon located at various levels. If you click on the Amazon icon located at the supplier level, then all their validated products will be added to your list. If you click on the "browse" button to see the supplier's categories, reach the "product list" page, and click on the Amazon icon located at the top of this page, then all items from that category path will be added to your list. You can also add single items only by clicking on the Amazon Icon on the "product detail" page of any given items. Watch the video below for an example.
3. Cleaning up your list: Once you have added all the items you wish to sell to your Amazon list, I then recommend that you delete items between $0 and $35. The reason for this is simply related to your profits. If you are going to process your orders through wholesale2b.com, then based on past experience it is best to remove products below $35, as those items usually don't yield very much profit. Of course, this is fully optional and this recommendation is simply based on my personal observation of sales.
To remove items below $35, simply click on the small grey "delete" button located at the top of your Amazon list and enter the price ranges of $0 to $35 and click "save". The same concept applies if you wish NOT to sell items above a certain amount. For example, if you do not want to sell items above $500, then simply click on the small grey "delete" button located on top of your list, and enter the price range of $500 to $99999 and click "save". Your list won't be cleared immediately; however, these items will be marked for removal, and will be removed from your list when you turn ON your list and submit it to Amazon. View pictures below.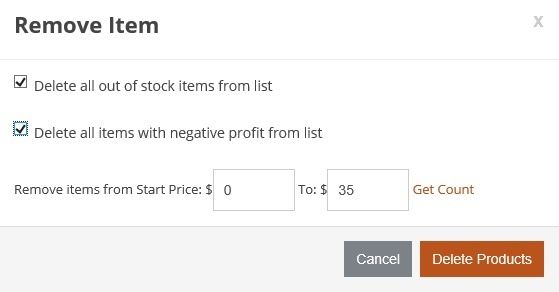 4. Setting your prices Once you are happy with your list of products, it is time to configure your selling prices. If you skip this step, then our system will automatically use the suggested list prices given by our integrated suppliers. While these prices are realistic, they will most likely not be optimized to help you start making sales more quickly. If you are a new seller on Amazon, then I recommend that you first start with small profits and slowly increase your margins over time. I have found that when selling on Amazon, once you get your first order, other orders follow quickly. For this reason, you should configure your prices to be attractive to help you get your first order.
As you start making more and more orders, you can then edit your markup and slowly increase them to increase your profit margins. By increasing them slowly, I mean that you should add perhaps half a point or one percent. To set your prices simply click on the "STEP #4″ button located at the top of your Amazon list. You will then see the list of all the suppliers with products on your list. Now you have the ability to configure your markups per supplier if you wish, or you can simply configure markups on one supplier and copy the same settings to all your other suppliers. To get started, click on the small edit icon next to the first supplier on your list. You will then see several markup options. If you are new to selling on Amazon then I would recommend that you limit your choice to two of the markups offered, the "flat percentage" markup or the "tiered percentage" markup
5. flat percentage markup
If you are focusing your list on items within a narrow price range, then this option is good for you. This flat percentage markup will represent the percentage increase on your wholesale price. For example, if you set your markup to 40%, then all selling prices will be set to your wholesale price + 40%. As you know, a 40% markup on a $10 item is very different when compared to a 40% markup on an item for $1000. This is why this markup method is only recommended if you are focusing your list on a narrow price range. tiered percentage markup
On the other hand, if you are including items with a wide range of prices to your list, then this markup method should be your choice. With the tiered percentage markup option, you can set different markups on price ranges of your choice. You can set nine different markups for nine price ranges of your choice. All ranges need to be entered and no gaps should be left in between each price range. Here is an example of what you can do: $0 – $10 = 120% markup
$10.01 – $30 = 90% markup
$30.01 – $50 = 51% markup
$50.01 – $60 = 45.5% markup
$60.01 – $70 = 44% markup
$70.01 – $80 = 43% markup
$80.01 – $90 = 41% markup
$90.01 – $100 = 40% markup
$100.01 – $99999 = 35% markup Of course the numbers above are examples only. You are free to set the price ranges of your choice as well as the markups of your choice. This method is allow you to fine tune your markups more precisely. Don't forget to tick the checkbox at the bottom of the markup page to copy the markup settings to all your other suppliers. This will help you avoid having to re-enter the markup for each supplier on your list. You can then edit the products per supplier if you wish or simply keep them all the same.
6. Confirm your profits Now that you have set your markups, you will need to check your list to make sure that you will earn a profit on each item. This can be somewhat challenging, since you need to take into account the Amazon fee, which is usually 15%, as well as the wholesale2b fee which is $2.50 per order + 3%. Again, you can avoid this fee by processing the order yourself manually, directly with the supplier.
To review your profit or losses on each item, simply go back to your Amazon list by clicking on the top green button "Amazon plan" and click on the small grey button "show estimated profits." You will then see either a GREEN number or a RED number next to your Sell Price. A green number will indicate the estimated profit that you will make on that item, and a red number will indicate a loss. You can then click on the "Step #4″ button to make adjustments to your markups to either increase or lower your selling prices. If you see a red number, then you should slightly increase the markup for the price range of that item. If you see a green number that is too high, meaning a very high profit, then you can simply lower the markup value for the price range of this item. Remember, at first you don't necessarily want to aim to very high profits on each item. Your first goal is to attract buyers with realistic prices and yet competitive prices as well.
Once you have made all the price adjustments needed, you can then click on the small grey button "show negative profits." This will trigger the list to only show items with negative profits. This will make it easier for you to do your final markup adjustments. Alternatively, you can also decide to change prices on the item directly rather then changing the markup by clicking on the small EDIT icon next to the "sell price" amount. You can consider that you are done with setting your prices once you longer see any items when clicking on the grey button "show negative profits." Please keep in mind that the profits are estimates only. You might have to make further adjustments when you start getting sales in, so making price changes or markup changes will be an ongoing process until you have made a few sales.
7. Changing your shipping costs Although we provide the option to let you increase or lower the shipping costs using the same markup methods, I personally do not recommend making any changes to your shipping costs. If you do not make any changes, then you are sure that the shipping costs charged to your buyers will be the same that you will pay wholesale2b to process your orders. You should also remove any shipping configuration in your Amazon account and let your Amazon list from wholesale2b decide which shipping costs to charge.
8. Offering Free shipping We realize that free shipping is always an attractive option for buyers, so we have included an option to quickly allow you to combine the shipping cost to your selling price. As a result, the shipping price sent to Amazon will be $0 and your selling price will be increased accordingly to compensate for the difference. To apply this option, simply click on the small grey button "options" at the top of your Amazon list and choose "yes" and click "save".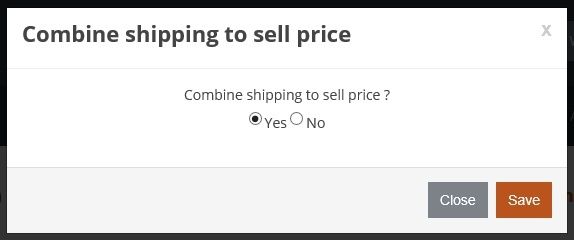 9. Activate your list Now that you have completed all the configuration steps, its time to turn ON your list and push your items to your Amazon account. Simply click on the "off" link next to the "List Status" on the top left corner of your list and choose "on" then click "save". Your Amazon list will then be active and will be pushed every night with daily updates. If you wish to push your list immediately, then simply click on the link "Submit list now" located on top of the "List status". This will trigger your list to be pushed immediately, which will take about 30 minutes, after which time you should see your products in your Amazon account. You do not need to click on this link to send updates to Amazon. Your list will be automatically pushed every night to Amazon so items will be converted to "out of stock" and to "back in stock" whenever changed.
10.What to do when I get a new order? Amazon will send you an email when you make a sale. You will also receive an email from your wholesale2b account alerting you of a new sale.
To process your order, simply login to your wholesale2b.com account (not Amazon) and click on the top menu "Amazon Order History." You will see your list of new orders on this page. Click on the order number to see the "order detail" page. Here you need to compare the item from wholesale2b with the item from Amazon to make sure they are the same. Our system already validates UPC codes with ASIN numbers from Amazon; however, there is a small margin of error, so this step is simply to make sure that you have sold an item that matches the UPC. Then, go back to the "Amazon Order History" page and click on the link "order now." On this page, you will see the wholesale price + shipping + fees. Simply click on the "next" button to complete the checkout steps and make your payment on the very last page. You won't have to enter any details. The order details will already be generated for you, including the shipping address and the item(s) ordered. Simply click "next" until you reach the final payment page, and then complete the payment.
This will trigger a new internal order in our system and our order fulfillment team will then process the order with the corresponding supplier for you. Once the order is shipped, we will pass on the tracking code from Fedex or UPS to your Amazon account for you as well so you won't have to worry about any delays in getting tracking codes quickly to Amazon. Amazon will then mark your order as "shipping" and they will deposit your funds directly into your bank account according to their deposit schedule. This represents the end of an order cycle. As you can see, with Amazon you need to pay for the item up front before getting your money from Amazon. If you don't have enough funds up front to pay for the order, then what you can do is simply use your credit card to pay for the order, and refund your card once Amazon deposits your funds to your bank account.
All the above information is on the wholesale2b website I just put it all together with some photos and videos to help you better understand the listing processs when using the system. That just the basics now we going to get into how I like to use the wholesale2b dropshipping system. Please watch the videos below to see how I put the Otto touch to it. (Come back to this page often a series of videos will be uploaded
THE 5% METHOD
"The comments below are strictly based on my personal opinion and do not necessarily represent an exact and accurate description of each supplier performance. This report is meant to simply help you during your supplier selection process. Mike."
ahidistribution.com


(254 products)

Usa
RATING:

This is one of my favorite suppliers. They have excellent pricing and their shipping is very fast and dependable. Tracking codes are provided in 1 business day.
All In Audio Inc.


(7,016 products)

Usa, Canada
RATING:

Very good suppliers. No complaints so far and shipping is fast.
atsdistribution


(3,655 products)

Europe, Uk
RATING:

This is my personal favorite UK supplier. I have been working with this supplier for many years. They never missed a shipment and their inventory is always up to date.
Azuregreen


(6,788 products)

Usa, Canada
RATING:

Bnfusa


(1,858 products)

Usa
RATING:

I really like this supplier. Their shipping cost is a little high however they always ship quickly. Please note that there is a $100 minimum for the first order. After that, there is no minimum. If you process your orders through your wholesale2b account you will not be subject to this first minimum order.
calicojunodesigns.com


(2,925 products)

Usa, Canada
RATING:

This supplier provides hand made jewellery that are of excellent quality. The supplier entire business was started by 1 one single person and grew over 11 years. Now they have their own retail stores and they have been featured in many popular magazines.
Casey Distributing


(20,726 products)

Usa
RATING:

I recommend this supplier without hesitation. Orders get shipped quickly and customers are very happy with their products. All orders have been delivered on time so far and none of the buyers have requested returns or cancellations.
cwrelectronics


(18,444 products)

Usa, Canada
RATING:

This is an excellent supplier with excellent products. Marine products is definitely a good niche and hard to find. They ship products quickly and have accurate inventory status on all their products. If you are interested in reselling marine products of all kind then this supplier is an excellent choice.
DandH


(26,966 products)

Usa
RATING:

This supplier provides excellent products and excellent services.
DBL




(3,835 products)

Usa
RATING:

DBL offers great products and great service. They have merged with a different company called Ingram Micro. This merge is transparent to users. This supplier is one of my favorites.