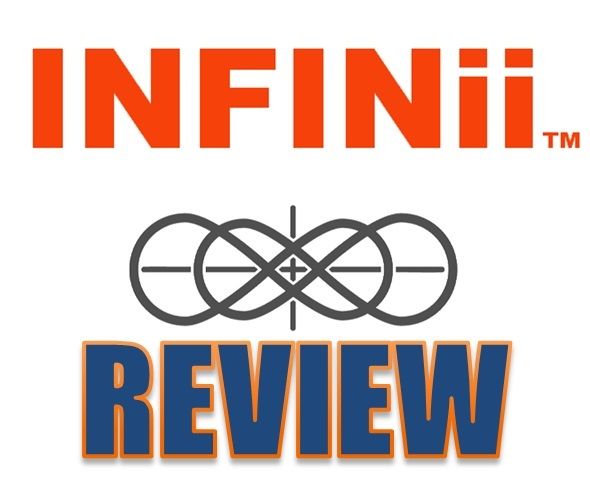 Most likely you heard about or been approached by a friend regarding Infinii via Facebook or email. Regardless on how you were introduced to Infinii. You have discovered the right article for an in-depth Infinii review.
My goal is to give you a thorough review of Infinii, their services and how best to understand the company compensation plan. After this article, you should have all the information to make an educated decision on whether to join Infinii or not.
To be upfront and honest, After reviewing many network marketing companies I decided to join Infinii. In this article, I will share with you why I joined one of the best Network Marketing firms in the world.
Infinii Review – The Company
This online business was created by Hitesh Juneja (CEO), Kevin Hokoana (COO), and Jason Rose (CFO). These talented individuals have created several Amazing business, many which are all very successful and very profitable today.
Honestly, I'm currently a member of their first company called DS Domination. The company is amazing it teaches how to drop ship on eBay and Amazon by sourcing items to list at a marked up price from various online retailers and wholesalers.
Thanks to Hitesh, Kevin, and Jasons creation of Infinii, it has become increasingly easier to achieve success in eCommerce by leveraging Infinii tools and services.
Infinii has officially launched and is now considered one of the highest paying network marketing opportunities in the market. Here is my YouTube Infinii Review, The video below will give you a behind the scene look at INFINii.
Become an Infinii partner, click this link and opt-in on the list.
Please read this article to the end I will be providing you with some powerful information that will aid you in your e-commerce success.
Infinii Reviews – The Products
When joining Infinii, the company offers three opportunity levels. Each level offers various tools and training.
Level 1: Prime ($49.95 per month)
Teaches you eBay selling techniques via the drop shipping model:
This dropshipping training includes step by step training on how to sell high then buy low.
What is drop shipping? Drop shipping is a business model where you never store products. Instead, you list items on eBay or Amazon from various suppliers. Once the item sells the money goes into your PayPal or checking account, you then purchase the item from the vendor, have the item sent to the buyer as a gift, so it does not show price. You then profit from the difference between what the item sold for and what you purchased it for.
eBay Listing Tool: Teaches you how to list on eBay quickly. This process is more efficient than listing manually.
Bonanza Training:
Teaches you how to sell on Google shopping. The training shows you the best process on how to use Bonanza to be successful selling on its platform. Bonanza has some of the lowest seller fees in the market and is considered the best eBay alternative.
Shopping Party Training:
Infinii has an app that allows you to scan products from retail stores for potential Amazon profit. The app shows you if an item is profitable to sell on Amazon FBA. It's purchasing items in bulk shipping them to one of Amazon's fulfillment centers, and Amazon handles the rest. Amazon FBA is great for those who do not want to handle fulfillment or customer services issues.
People are making a life-changing income selling on Amazon FBA. This training provides some beginner level training on how to become successful selling on Amazon. Click here to get started 
Tier 1 Product Coop Opportunities – I have a more in-depth explanation of what this is further in the article.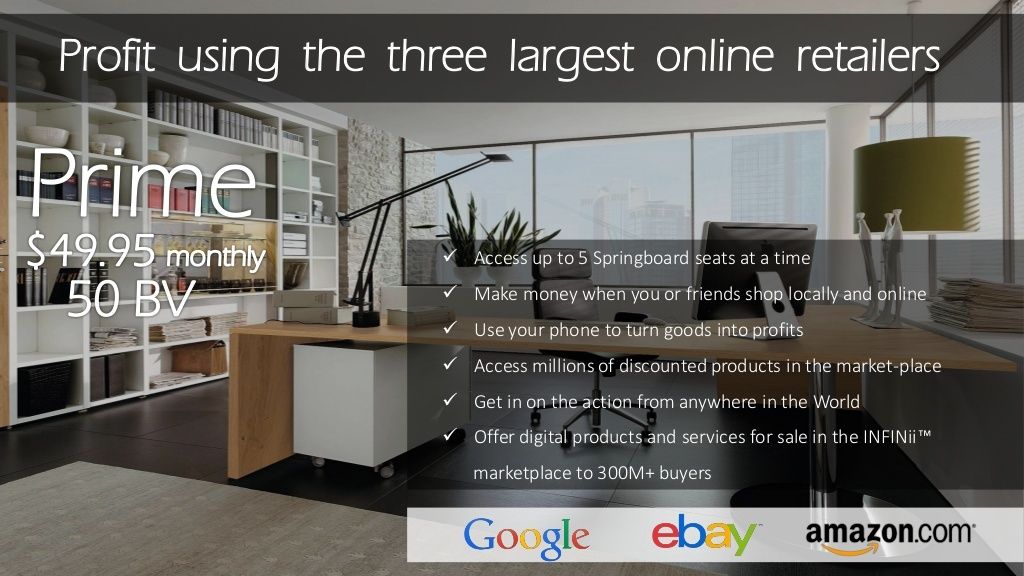 ---
Level 2: Surge ($149.95 per month)
This will include all the values of Prime mentioned above plus the following:
With Surge, you have access to automation software that gives you a suggestion on which items are potential hot sellers and which are not. The software takes into account the seasons and different trends throughout the year. It can also suggest which items should be removed or added to your listings. The software is a must for Amazon sellers and will undoubtedly improve your e-commerce sells.
Also, you will get access to Tier 2 product coop opportunities.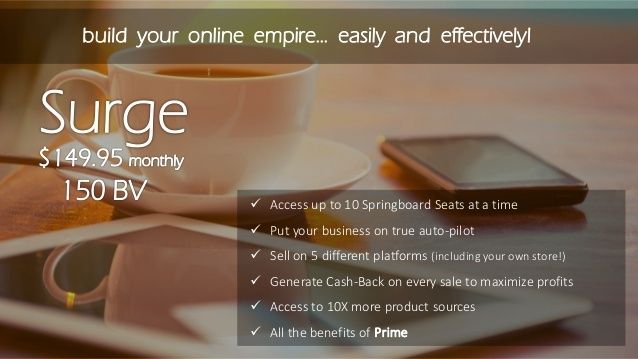 ---
Level 3: Excel ($399.95 per month)
The Excel level includes all the above Prime, Surge however you get some extras.
Amazon FBA training:
This training teaches you how to best sell an item using Amazon FBA, Which stand for fulfillment by Amazon. As mentioned above Amazon FBA is a process or sourcing items, purchasing them for a low price than shipping them to one of Amazon's fulfillment centers. Where you then sell the item at a higher price. Amazon takes care of all the shipping and customer service for you.
You also get access to Infinii Amazon Dropship training. The training teaches you how to utilize Infinii exclusive products marketplace to dropship from. Also depending on the level, you are on (Prime, Surge, and Excel), you will get more discounts with the higher memberships.
When using the marketplace you benefit from being at a higher level. The higher the level, the more discounts, and products you have access too.
You also have access to automation and an inventory management tools. These tools can reprice your inventory and notify you when items become out of stock it will also notify you of prices changes that give you an advantage on winning the buy box.
For more tips on how to win the Amazon buy box read this article I recently wrote. Click here >> Seven tips on winning the Amazon buy box. 
---
Infinii – Springboard
The Infinii springboard is a "Tiered coops" you can participate in.
Amazon most successful FBA sellers all incorporate the bulk buying model. Which is purchasing items in bulk from China, rebranding them and selling them for a much higher profit on Amazon. The process can be time-consuming. Especially if you're serious about ranking on the first page of Amazon. There lots of traffic generation and SEO involved. If you choose to join Infinii, All the above will be done for you.
With Prime, you have access to Tier 1 springboard and products.
Referring to the picture above, Infinii has ordered 1000 items, which are available to Tier 1 members at a cost of $1.00 per unit.
The company offers 100 seats or spots for members to purchase the items. If you are a prime member Infinii restricts the available seats to 5 seats per prime member.
The quantity and amount of time available until these items sell out will be displayed in your back office. Referring to the above picture once all products are sold, you would profit $26.10 per seat you own.
For example, if you purchased all five seats, you could profit $130.50. So in actuality, the $50 you invested in acquiring those seats would profit you $130.50 that's Amazing.
The Coop is a wonderful opportunity for international sellers, those living outside the United States or those entrepreneurs that reside in a remote region. Many people in those regions find it difficult to get approved to sell on Amazon or eBay. With this system anyone in the world can take advantage of this opportunity, Infinii makes the work simple for you by doing all work.
Keep in mind, you have access to various tier 1 items. However, you are limited to 5 spots, and it doesn't matter the number of products you purchase in the seats. Items acquired at the tier 1 level net a profit of 50 to 250 percent when those items sell on Amazon.
Caution: The above is an example, this does not assure that all items will sell. Infinii does it best to inspect all potential products for selling success and profits. However, results are not guaranteed.
---
Surge example ($149.95 a month) you gain access to the (Tier 2 products) Springboard.

The Tier two Coop basically is the same as Tier one, However, take notice of these two differences.
For one, the seat investment is a bit higher. However, the items are of greater quality and can be sold for a larger profit margin. For example, your investment of a $73 seat should profit you $332.70 once your items sell out on Amazon.
As a Surge level member, Infinii restricts you to 10 seats. However, there are various items to choose from. In regards to the above photo, purchasing ten seats at an investment of $730 would net you a profit of $3327 once sold on Amazon.
---
Excel example, with the Excel springboard you have access to the following Tier 3 items.

The photo above shows your investment of this seat at $97. However, the potential profits from sells of items in this seat are considerably higher due to the items in the seat. For example, one seat could profit you $56.85 when all items sell on Amazon.
Caution: Infinii restricts you to 20 seats at the Excel level.
I'm sure by now you notice the opportunity to make some life changing income with the Infinii system.
Infinii – The Compensation Plan
The Infinii compensation plan has to be one of the most effective network marketing comp plans for members in the market and here's why.The Infinii compensation plan pays 75% WOW. The next highest paying network marketing compensation plan only pays out 35%.
The main reason Infinii can offer such an incredible compensation plan is because they're not storing physical products in a warehouse. Many network marketing systems require their members sell beauty products, health products, shakes or tea. Those businesses have too much business overhead by storing those products that limits the company in regards to how much profit they can pass on to their members.
In regards to Infinii, the majority of their products are digital any of the physical items are products available for dropship on Amazon, Bonanza, eBay, Shopify or any other e-commerce platforms you wish to sell on. So Infinii as a company has almost microscopic overhead expenses. This allows Infinii to share more profits with you the team member.
The Infinii compensation plan is a mix of Uni-level and Binary.
Take some time to get a custom to these terms:
BV – is Business Volume
Active Points – is the level you are presently enrolled in (Prime, Surge or Excel).
For example, the Excel plan is an investment of $399.95 and will account for 400 Active Points. You can also acquire 400 Business Volume points when one of your leads or team members purchases a membership in your dual team.
PET – is (Personal Enrollment Tree) Volume: This is your downline of members you directly sponsored. PET your Uni-level.
Check out this video review of Infinii and it's compensation details:
---
---
Infinii Review – The Verdict
Obviously, this review is damn biased because I am a member of Infinii. However, let's take a look at the facts. Infinii has some incredible training courses, as well as inventory and product Coop investments that will make you some serious cash.
The best thing about this opportunity to join Infinii is you gain access to some of the best eCommerce training online, and you can take advantage of those cash-generating Coops.
And in case you missed it above, Infinii has one of the highest compensation plans in network marketing period.
Why should you partner with me?
Not to toot my own horn. However, I been successful in e-commerce for the past eight years. Selling on eBay, Amazon, and Bonanza. I also own several very successful Shopify stores. Not to mention I have a Youtube Channel and Facebook page dedicated to teaching dropshipping techniques for free.
I'm not telling you this just to talk myself up; I want you to know that you're partnering with a person who knows eCommerce, team building and how to sell online.
If you choose to become an Infinii partner and build your own Infinii team, I have a free bonus for you to aid you in your team building.
1. email autoresponder
2. Lead capture pages.
3. Training videos and ebooks.
4. Access to the Facebook group.
Infinii is open to the public, much of your beginning success will highly depend on which team you join and the leaders available to assist you in your new business. I believe my partners and me possess the necessary skills to aid you in your business building.
We're looking for dedicated Serious business minded people that are looking to build a team and support others in their team building.
Join The Most Helpful Team In The World.
Once you receive your first email, please respond back informing me of your past business experience and what you expect to achieve by joining our team.
As a team builder, you can expect some significant commissions for your efforts. However, if you are not looking to build a team and want to become a customer, please inform me I have some additional things for you as well.
Thank you for reading this post, I hope you are better informed on Infinii and able to make a better-informed choice on whether the company is right for you or not. Please click here to get started today. Let's partner up and build a successful business together.